CURRENT HEADLINES
Municipal building collapses in Embrun
You can still read Alberte Villeneuve's tribute to mothers

May 15: C-R burn ban has been lifted
What happens when C-R is under a burn ban?
Fire in Larose Forest causes little damage
Canadian Tire gas sale... Editor's comments?
Carbon monoxide alarms now required by law
Sarsfield Home Hardware closes without warning
Municipal building collapses in Embrun
(Embrun - Tuesday, May 12, 2015) A municipal salt shed has collapsed in Embrun. Russell Township C.A.O. Jean LeDuc says the building on New York Central Avenue was in the process of being demolished, when a gust of wind hit it Tuesday morning and brought it down.

The Russell County Detachment of the Ontario Provincial Police (OPP) responded to the call along with Emergency Medical Services (EMS). Hydro was also notified due to the hydro lines being down.

According to the OPP, one male employee from the Russell County Township was treated for minor injuries by Paramedics but he was not transported to hospital.

However 1310 News reported that LeDuc said "Staff were wearing safety equipment, and nobody was injured."

He says the Ministry of Labour has been notified.
Exceptional Mothers:
Mothers live ordinary lives in an exceptional way

BITS & BITES of Everyday Life
by Alberte Villeneuve

Read the verbal etchings from our resident columnist and see her special Mother's Day column...

It is with pride and joy that I offer you my article on "Exceptional mothers".
"Happy Mothers' Day" to all the wonderful moms of this world!

'Love begins by taking care of the closest ones – the ones at home' — Mother Teresa'



Today I would like to salute all the wonderful mothers of this world because motherhood may be the most difficult challenge women face during their lives and unfortunately, young women are often ill-prepared for it.



Click here to read more and to see previous columns... for example, her April column "Contrasts... from Canadian winter to Barbados' southern sun" offers a virtual tour through the links that she has provided!
Jill Churchill: "There is no way to be a perfect mother, and a million ways to be a good one."

Did you know that... The US Congress passed legislation in 1914, designating the second Sunday in May as Mother's Day?
Back to top
Larose Forest:
Forest Fire causes little damage
(Casselman, May 4, 2015) The United Counties of Prescott and Russell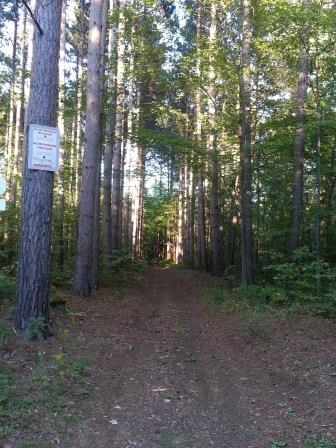 (UCPR) has advised that a forest fire happened in a remote area of the Larose Forest, in the former Township of Cambridge, more than 650 metres from the nearest access road (Martel Road, located more than 5.5 kilometres from the Village of Casselman.

"According to preliminary details, the fire was contained within a hardwood patch of woodlot along the slopes of a ravine," said Louis Prévost, Director of Planning and Forestry of the UCPR.

"Volunteer firefighters from The Nation Municipality along with two of our forestry technicians were able to contain the blaze without any problems. We estimate that the burnt area was of a few acres, without any significant damage or risk of further spread." The origin of the fire is unknown at this time.

The management of the Larose Forest has been the responsibility of the United Counties of Prescott and Russell since 2000. With its total surface area of approximately 26,000 acres, the Larose Forest is today one of the largest man-made forests in Canada.

Read more on Larose Forest...
Back to top
Canadian Tire offers cheaper gas on Thursday

Editor's Comments:
We ran this story, not to promote Canadian Tire (CT), but to give our readers a heads up about saving a few cents on gas. Turns out that when I arrived at the gas bar around mid-morning, the price of gas per litre had increased to $108.9 from $102.9 earlier in the week. So much for the .05-cents saving!
I needed gas, but I only put in $25.00 worth out of principle. I was put off by the increased price. I then noticed that the price per litre across the street at the shell station, was $103.9! I felt like going back to the CT and telling every motorist in the line up, to head across the street.
About one hour later, after running some errands, I saw that CT had reduced their price to $103.9
When I spoke to the manager, he told me that the other station had set the price and that he had to wait to hear from his head office, before he could change his prices. He said that the prices were set at head office, not by the local station. He also advised that he was forbidden from talking to the other station managers.
I have since called Dan McTeague, to get his spin on this pricing... I will share his thoughts shortly. -Ed.
---
(May 4, 2015) These days everyone likes to save a few pennies, especially at the gas pumps. The prices were down for a while this past winter, but now they are starting to creep up again.

You will be able to get a little relief this Thursday, May 7, when the local Canadian Tire Gas Bar will be giving you .05¢ off the day's posted price per litre, between the hours of 7:00 a.m. and 7:00 p.m.

You can expect long line-ups during the day and one employee was heard to tell a customer, come by at 7:00 a.m. when they are starting up.

The local gas bar usually offers these sales twice a year and advertise by giving out the above flyer both at the cashier's counter and included in the local Canadian Tire Flyer.

The event also promotes signing up for their "Gas Advantage Mastercard" which has "no annual fee". if you are a regular customer, the card can save you money at the pumps as well as saving you time, because you can use the card to pay at the pumps.

NOTE: If you visit OttawaGasPrices.com you will note that Clarence-Rockland often has the cheapest prices in the region.
Back to top
Burn Ban lifted:
You can still have back yard fires, but check first

(Monday, May 11, 2015) The local burn ban was lifted today, probably because of the rain fall that we received. However if drier conditions come back the burn ban will probably be enforced again.

Before you light up that back yard fire, call the number on your fire permit... Yes, you still require fire permit, and given the fine, it is worth the $20 to pay for the permit.

The number is: 613-580-2880. Listen to the message, and follow the instructions. Please read our previous story... click here.
Back to top
Clarence-Rockland is under a burn ban

(May 1, 2015) A city-wide spring burn ban remains in effect to prevent the rapid spread of fire due to grass and brush fires. This ban will remain in place until conditions improve and the green grass starts to show through dead tall grass. This winter left more debris (fallen tree branches, leaves, etc.) on the ground than in previous years, which increases the risk of fire spread.

This means that no fires are allowed, whether you are burning your leaves and yard rakings, or sitting around a back yard fire pit.

Clarence-Rockland burn bans are issued through the City of Ottawa dispatch. Residents are reminded that they must first obtain a fire permit before they have any fire in the open air. Permit holders are required to call 613-580-2880 prior to burning to ensure there is not a burn ban in effect.

Substantial fines may be issued to residents who are not in possession of a
valid fire permit or are found to be non-compliant to conditions and
regulations within their permit. Fire Permits are available through our bylaw office: 613-446-6022, Ext: 2244

The current fine is around $240.00
Back to top
Carbon Monoxide alarms now required in certain Ontario homes

As of mid-April 2015, it's now the law in Ontario to install carbon monoxide (CO) alarms in your home if you have a fuel-burning appliance or an attached garage. Those who do not have a carbon monoxide detector installed in their home will now face a $360 fine.

An estimated 10,000 Ontarians suffer from carbon monoxide poisoning each year. Read more here.
Back to top
Sarsfield Home Hardware closes... employees out ASAP

(Photo courtesy of Orleans Online)
(Sarsfield, April 8, 2015) When the Sarsfield Home Hardware shut its doors on Wednesday, after 20 years, it left 20 people out of a job and forced the store cats to find new homes. According to one radio news report, management walked in to the store at 2:00 p.m., and closed it by 6:00 p.m. That was all the notice the staff got.
Some aspects of the business (feed, fertilizer, etc.)were to remain available for the local farming community. The community (Canada) post office, which is housed inside the store, was to remain open as well, however the corporation is evidently looking for a new location.
Read the CBC coverage (with photos) here.
Read the Vision Newspaper story (in French) here.
From Orleans Online: Sarsfield landmark closes its doors for the last time
Back to top
Back to top
1. VISIT OUR MAIN NEWS PAGE FOR THESE
RECENT STORIES CLICK HERE...
High winds topple trees, cut power
Remembrance Day phony works in Rockland
Major gas leak closes Caron, residents evacuated
Winter overnight parking restrictions start on November 15
School zone awareness program adds traffic devices near schools
Citizens for Ethical Government closing website
C-R City cancels all meetings for November
Changes to speed limits on County Road (Hwy) 17
Carbon Monoxide alarms now required by law in certain Ontario homes
Have you been to the C-R Public Library's new website?
Clarence-Rockland has a new mayor - Guy Desjardins
Attack on Parliament Hill, soldier killed at National War Memorial
Russell Township, Jean-Paul St-Pierre dies unexpectedly
Francophone book fair comes to town (Le Salon du livre de l'Est ontarien)
2. CHECK OUT OUR PREVIOUS NEWS


FROM OUR ARCHIVES
» 9 - June/September 2014
» 8 - March/April/May 2014
» 7 - November 2012 to February 2014
» 6 - July - October 2013
» 5 - October 2012 to July 2013
» 4 - June 2012 to October 2012
» 3 - June 21, 2011 to Jan. 2012
» 2 - May 2010 to March 2011
» 1 - June 2008 to March 2009
(And if you can't find what you are looking for... go to #3 below.)
3. IF YOU CAN'T FIND SOMETHING,
THEN SEARCH THIS WEBSITE:

Are you new to the area?
When is the last time you
had your septic tank cleaned?
(Click on pic for more)
Please let us know if there are any errors or omissions and if there are links you would like us to add:
This week's recycle box!
Alfred College... Closure?
Archived (Older) News Stories
Babysitting/Childcare
Bird Watching Links
Bits and Bites (Column by
Alberte Villeneuve)
Business News
Business (Small Office-Home Office)
Canaan Blueberry Farm
Canaan Message Centre
Clarence-Rockland Area News
C-R Casino??
C-R Chamber of Commerce
C-R City Council - members
C-R City Council - schedules
C-R City Council News
C-R City Website
C-R Environmental Society (CRES)
C-R Fire Department (CRFD)
C-R Municipal News
C-R Museum (historical) News
C-R YMCA-YWCA
C-R Public Library
Childcare/Babysitting
Church News
City of Ottawa website
Classified Ads
Columnists
Community Resources
- Childcare, Facebook, Pets, Septic
Computer, Hi-Tech & Internet News
Contact us
Cumberland Councillor Stephen Blais
Cumberland Lions News
Cumberland Community Association
Cumberland Village News
Dale's Cemetery, Cumberland
Editorials
Environment - News and Links
Events
Facebook Links
Family News/Health/Childcare/etc
Furniture repaired/refurbished
Garbage & Recycling
Gas Prices (Rockland-Ottawa)
Health News
Highway 174 Updates
Home/Household tips
House Cleaning Services
Humour/Morning Smile
Hydro (Ontario Hydro)
Just Ask Us!
Letters to the Editor
Local Fruit/Vegetables/Honey
Message Centre
Metal scrap/Junk pick-up
Neighbourly News
New Residents information
News
News Archives
News Headlines (Scrolling)
Obituaries
Ontario Hydro
Ottawa, City of - website
Ottawa Public Health
Past News Stories
Patrick's latest blog
Pet Page - Stories & Resources
Pet Care Services - Kennels/Grooming
Police news (OPP/Ottawa)
Politicians
Previous News and Archives
Product and food recalls
Recycle - Where to?
Regional News (Eastern Ontario)
Road Closures & Conditions
Rockland TVC22 (Cable-TV)
Schools, buses, cancellations
Scrap Metal/Junk pick-up
Septic Tanks and Systems
Site Map
Sports News
Technology News headlines
Today In History
Turtle News
TVC22 (Cable-TV) Rockland
Virus, Malware, Phishing News
Vision Newspaper
Water wells
Weekend Review
WEIRD News Stories

For more resources, check our site map!
(It has links to almost everything that is on this website)

Please let us know if you find any broken links, errors or omissions:


Back to top

BURN BAN STATUS
Thursday, May 19

As of today, the burn ban has been lifted. Enjoy your long weekend backyard fires, but don't forget to get a permit.
---
Call 613-580-2880
to hear the latest information.

MAY 19 - 23

---
Box

Pick up one day later after long weekend

---
Read more..
.
---
Schedule MAY 2015
| | | | | | | |
| --- | --- | --- | --- | --- | --- | --- |
| S | M | T | W | T | F | S |
| | | | | | 1 | 2 |
| 3 | 4 | 5 | 6 | 7 | 8 | 9 |
| 10 | 11 | 12 | 13 | 14 | 15 | 16 |
| 17 | 18 | 19 | 20 | 21 | 22 | 23 |
| 24 | 25 | 26 | 27 | 28 | 29 | 30 |
May 07, 2015


Click on the pic to read the Vision online... More...
---
(Check out the Vision
website here.)
Clarence-Rockland/Ottawa
Gas Prices
We have a link that shows "Lowest Regular Gas Prices in the Last 24 hours" as well as "Highest Regular Gas Prices in the Last 24 hours".

More...
Fake soldier Franck Gervais
(worked at Potvin, Rockland)
sentencing delayed:
The sentencing hearing for the man who pleaded guilty to illegally wearing a military uniform and medals during the 2014 Remembrance Day ceremony in Ottawa has been delayed until Aug. 4..
More...
Rona coming to Rockland:
Rona expansion in 2015 to
include store in Rockland.
More...
Daytripping to Rockland:
Citizen feature offers background
on Rockland and includes local
artists and businesses.
More...
Get your water tested if...
The Eastern Ontario Health Unit
recently reminded us to have our
water tested if we are on wells.
More...
What's New?
We have added a couple of new pages to our website and hope that our visitors will find them useful.


The first, under the heading of Community Resources, contains several links to things like Childcare, Pet Services, scrap meta/junk pick-up and and Small Businesses.


The second, contains a growing list of local Facebook and Twitter links.Click on the above graphics to visit wach page. And don't forget to look at our Page Directory below.

Click on the graphic to see
the latest recalls...

Latest Facebook additions:
Rockland and surrounding area Book Store
Mayor Guy Desjardins
UPCOMING EVENTS

May 8 - Blood Donor Clinic
May 10 - Mother's Day
Cumberland Museum
May 31 - Car Show, Wendover

(See the events here)
Call us with your event!
(613-833-0057)
or email us at:
editor[at]canaanconnexion.ca
BITS & BITES
of Everyday Life
Alberte Vileneuve
Read the verbal etchings from resident columnist. Currently...
---
What a difference in lifestyles!

Alberte reminices about her maternal grandmother and early life on the farm.
More...
Local Honey


Canaan Blueberry Farm
sells their own local honey... all natural, healthy and delicious!
613-833-2069
Cumberland Village News


Cumberland second only to
downtown when it comes to
new construction in the capital.
Read more...
LETTERS...
TO THE EDITOR
Patrick Meikle
Canaan Connexion

---

Harper's Disdain for the Rule of Law:

"What is the use of a democratic voting system if it can be circumvented by manipulating the law?"
Read more
Road Conditions


(This page carries information about road conditions and detours that may affect local motorists. Click on pic.)

New info....