CURRENT NEWS

Speed limit along County Road 17 in Rockland reduced to 70 clicks
Carbon Monoxide alarms now required by law in certain Ontario homes
After the elections - what now? We asked the City Clerk...
The election results are now official
Clarence-Rockland has a new mayor - Guy Desjardins

---
Attention Clarence-Rockland residents:
Important items for your attention

Changes to speed limits on County Road (Hwy) 17


The speed limit along County Road 17, from Canaan Road
east to Landry Road, has been changed to 70 k/hr.
(Click on the pic to enlarge - Photo Patrick Meikle)

(Clarence-Rockland, October 2014) Motorists should be aware that the speed limit on County Road 17 from Canaan Road east to De La Baie Road has been reduced from 90 k/hr to 70 k/hr.

Also the speed limit from De La Baie Road east to Landry Road has been changed to 70 k/hr.

Motorists using Canaan Road will no doubt find it confusing because they can travel up to 80 k/hr on Canaan Road, but then have to change their speed depending on whether they travel west towards Ottawa (90 k/hr), or east towards Rockland (70 k/hr).

Read a related story (in French) from the Vision Newspaper... click here.

---

Rockland school zone awareness
(You may have noticed road and traffic changes around Rockland schools. We will be posting this information shortly. - Editor)

---

Carbon Monoxide alarms now required in certain Ontario homes
(Wednesday, October 29, 2014) Itís now the law in Ontario to install carbon monoxide (CO) alarms in your home if you have a fuel-burning appliance or an attached garage. We will be adding more to this information, but in the meantime you can read more here.
Clarence-Rockland - From the Ctiy Clerk:
After the elections... what now?


(Wednesday, October 29, 2014) The Canaan Connexion had an opportunity to speak to Monique Ouellet, Clarence-Rockland Clerk, for a few post-election follow-up questions...

Click here for more...
Clarence-Rockland:
Election results now official
(Wednesday, October 29, 2014) As of approximately 4:00 p.m. this date, Monique Ouellet, Clarence-Rockland Clerk, declared the election results to be official. Except for one incumbent, Ward 8 Councillor Diane Choinière, all other wards will be represented by new faces. Click here for the official results.

(Click on the map to enlarge.)
Clarence-Rockland Election:
We have a new mayor - Guy Desjardins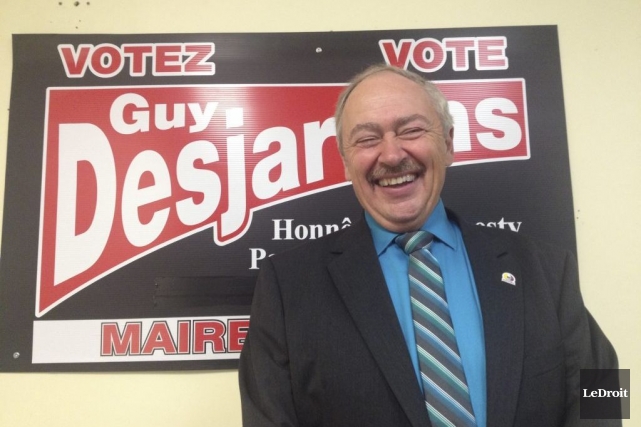 (Click on pic to enlarge - Photo courtesy of Samuel Blais-Gauthier, Le Droit)
(Clarence-Rockland, October 28, 2014) After a tough campaign that came out of what many residents called a dysfunctional City Council, and a broken electronic voting system that undoubtedly affected the voter turn out, the residents of Clarence-Rockland sent a clear message that they wanted a new council that would return integrity and dignity to this City.
Click here for our coverage, which includes related stories from the Vision, TVC22, Le Droit, Ottawa Citizen, Ottawa Sun, Radio-Canada (French CBC) and the Citoyen de clarence-rockland citizen Facebook page.
3. IF YOU CAN'T FIND SOMETHING,
THEN SEARCH THIS WEBSITE:

Are you new to the area?
When is the last time you
had your septic tank cleaned?
(Click on pic for more)
Please let us know if there are any errors or omissions and if there are links you would like us to add:
This week's recycle box!
Alfred College... Closure?
Archived (Older) News Stories
Babysitting/Childcare
Bird Watching Links
Bits and Bites (Column by
Alberte Villeneuve)
Business News
Business (Small Office-Home Office)
Canaan Blueberry Farm
Clarence-Rockland Area News
C-R Casino??
C-R Chamber of Commerce
C-R City Council - members
C-R City Council - schedules
C-R City Council News
C-R City Website
C-R Environmental Society (CRES)
C-R Fire Department (CRFD)
C-R Municipal News
C-R Museum (historical) News
C-R YMCA-YWCA
C-R Public Library
Childcare/Babysitting
Church News
City of Ottawa website
Classified Ads
Columnists
Community Resources
- Childcare, Facebook, Pets, Septic
Computer, Hi-Tech & Internet News
Contact us
Cumberland Councillor Stephen Blais
Cumberland Lions News
Cumberland Community Association
Cumberland Village News
Dale's Cemetery, Cumberland
Editorials
Environment - News and Links
Events
Facebook Links
Family News/Health/Childcare/etc
Furniture repaired/refurbished
Garbage & Recycling
Gas Prices (Rockland-Ottawa)
Health News
Highway 174 Updates
Home/Household tips
Humour/Morning Smile
Hydro (Ontario Hydro)
Just Ask Us!
Letters to the Editor
Local Fruit/Vegetables/Honey
Metal scrap/Junk pick-up
Neighbourly News
New Residents information
News
News Archives
News Headlines (Scrolling)
Obituaries
Ontario Hydro
Ottawa, City of - website
Ottawa Public Health
Past News Stories
Patrick's latest blog
Pet Page - Stories & Resources
Pet Care Services - Kennels/Grooming
Police news (OPP/Ottawa)
Politicians
Previous News and Archives
Product and food recalls
Recycle - Where to?
Regional News (Eastern Ontario)
Road Closures & Conditions
Rockland TVC22 (Cable-TV)
Schools, buses, cancellations
Scrap Metal/Junk pick-up
Septic Tanks and Systems
Site Map
Sports News
Technology News headlines
Today In History
Turtle News
TVC22 (Cable-TV) Rockland
Virus, Malware, Phishing News
Vision Newspaper
Water wells
Weekend Review
WEIRD News Stories

For more resources, check our site map!
(It has links to almost everything that is on this website)

Please let us know if you find any broken links, errors or omissions:


Back to top


Click here for our
post-election coverage.

Latest News from City Hall

The Public Meeting to discuss Development Charges, originally scheduled for this Thursday October 30, at 7:00 p.m. has been cancelled due to election administration. It will be rescheduled at a later date. All enquiries are very important to the City and this will give you more time to review the study which was requested at the Open House on October 21.
---
The City of Clarence-Rockland is seeking individuals to fill positions of the different Clarence-Rocklandís committees for the 2014-2018 term of Council. Read more...
What's New?
We have added a couple of new pages to our website and hope that our visitors will find them useful.


The first, under the heading of Community Resources, contains several links to things like Childcare, Pet Services, scrap meta/junk pick-up and and Small Businesses.


The second, contains a growing list of local Facebook and Twitter links.Click on the above graphics to visit wach page. And don't forget to look at our Page Directory below.
October 30, 2014


Click on the pic to read the Vision online... More...
---
(Check out the Vision
website here.)
UPCOMING EVENTS

More to come...

Call us with your event!
(613-833-0057)
or email us at:
editor[at]canaanconnexion.ca
(See more events here...)

We are compiling a list of
local Facebook and Twitter
pages. Can you contribute?
More...
BITS & BITES
of Everyday Life
Alberte Vileneuve
Read the verbal etchings from resident columnist. Currently...
---
What a difference in lifestyles!

Alberte reminices about her maternal grandmother and early life on the farm.
More...
Local Honey


Canaan Blueberry Farm
sells their own local honey... all natural, healthy and delicious!
613-833-2069
Cumberland Village News


Cumberland second only to
downtown when it comes to
new construction in the capital.
Read more...
LETTERS...
TO THE EDITOR
Patrick Meikle
Canaan Connexion

---

Harper's Disdain for the Rule of Law:

"What is the use of a democratic voting system if it can be circumvented by manipulating the law?"
Read more
Road Conditions


(This page carries information about road conditions and detours that may affect local motorists. Click on pic.)

New info....
The Writers' Deadline!! is a
locally based website for writers
of all genres... authors, poets, freelancers, journalists and
people who would like to be.

If you have an interest in writing, be
it mystery, poetry, family history,
whatever, you may want to visit
The Writers' Deadline!!
Join their free mailing list to see.